Description
KEY STAGE 2 COMPOSING is an exciting classroom resource for teachers delivering composition lessons in the primary school. This detailed and easy-to-understand book was written by a well-known composer who has researched and piloted new methods designed particularly for non-specialists. However, Music Co-Coordinators will also welcome the background information, practical advice and project ideas in the book.    Indeed, it can form a basis for your entire Key Stage 2 music syllabus.
NOTE: The latest National Curriculum for KS2 Music includes no changes which affect this book.  For full details, please see here.
A COMPLETE PRIMARY SCHOOL COMPOSING RESOURCE
KEY STAGE 2 COMPOSING, available here as a download of all the material, presents a creative course covering the entire KS2 composing curriculum in a way which is easy for non-specialist teachers to understand and use, and fun to deliver in the classroom. Detailed and timed lesson plans are complemented by thorough explanatory notes; no previous music knowledge is required. The book can form a complete year's work , or be a resource for all the composing elements in KS2 music lessons.  It is based on the methods David Stoll developed when asked by the DfES to look into helping non-specialist teachers deliver composing lessons.
KS2 COMPOSING – WHAT'S IN THE BOOK?
The Introduction discusses music lessons and composing, and gives links to the primary school music curriculum.  This is followed by a term's worth of timed and very comprehensive composing lessons, described in full detail with background notes.   There are then four projects which are likely to take a half-term each to complete, and six one-off short workshop projects for occasional lessons.  All necessary worksheets are included and copyable.  The book concludes with further guidance on inventing new projects, rooms and equipment, giving performances, and answers to common questions from non-specialist music teachers.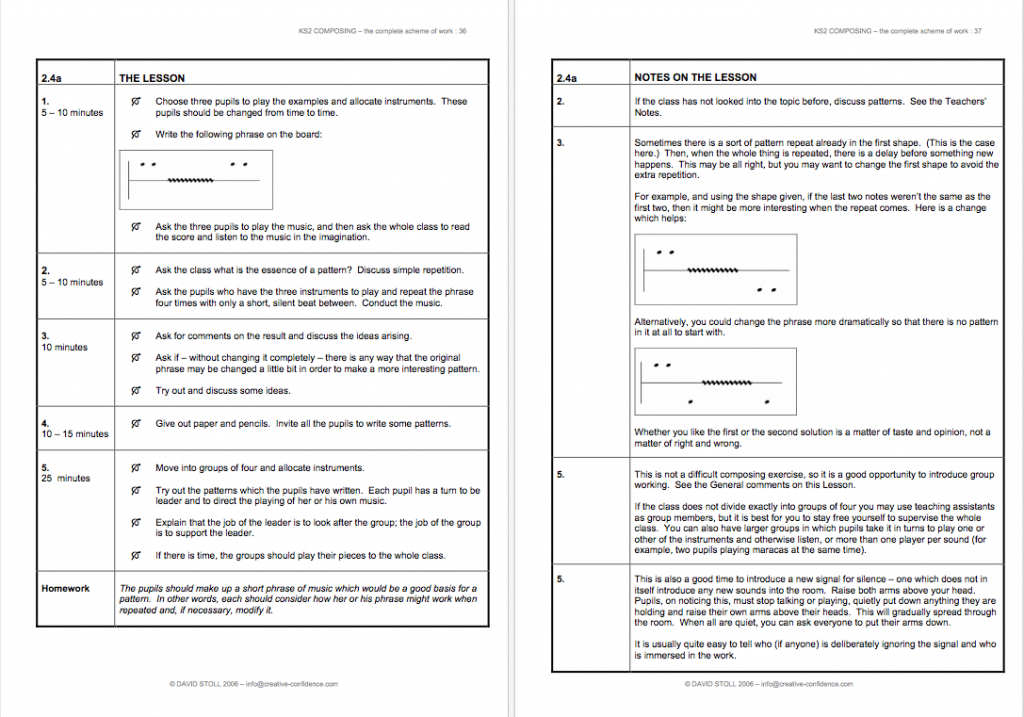 SUITABLE FOR MUSIC CO-ORDINATORS AND NON-SPECIALISTS
This useful publication is available from Amazon as a printed book and from this website as a download.
The download price for KEY STAGE 2 COMPOSING includes a licence for printing, copying and using the product in a non-commercial way within schools.  VAT will be added, making a total price of £17.40.