David Stoll offers a range of support services in music and creativity for schools and Local Authorities, including classroom composing lessons, creative music projects, songwriting projects, consultancy and INSET provision.
COMPOSING PROJECTS IN PRIMARY SCHOOLS
As a qualified teacher with Theatre-in-Education background, David sat on the original seminar group which gave rise to the Music Manifesto. He was then commissioned by the Government to write BUILDING MUSIC, a guide for primary schools working with visiting composers.  David occasionally runs workshops and composing projects in schools, and INSET training for Local Authorities around the country. The workshops are fully in line with the National Curriculum, but are also valued by headteachers for the guidance in listening and attention that they offer. Key Stage 2 workshops are a speciality.  David's projects include a commission from Creative Partnerships to design and develop SONGLETS, a project for primary schools.  Most of David's KS2 work is carried out under the banner of Creative Confidence.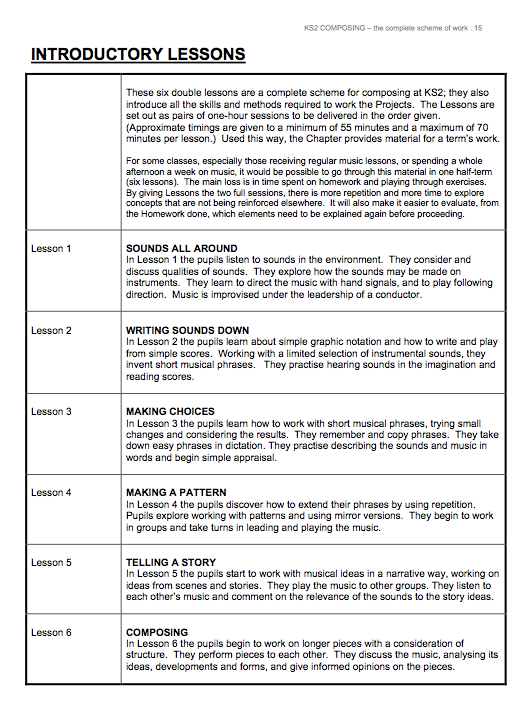 KEY STAGE 2 COMPOSING
David's second book, KEY STAGE 2 COMPOSING, is a systematic guide to teaching composing in primary schools with teachers' notes and sample projects.  This book, which forms a complete music course for a year, is available as a download, or as a printed book from Amazon.
MUSICALS FOR PRIMARY SCHOOLS
Recent works include DICK OTTINGTON and CUCKOO ROCK.  DICK OTTINGTON (written with Michael Hinton) is an introduction to the whole topic of pantomimes and how to stage them, and it also includes a complete new show with everything explained to put on a production.  The CUCKOO ROCK SONGBOOK is a collection of settings of poems by Phil Bowen, with piano accompaniment and backing tracks, and also a linking Narrator's script for performance.
TEACHING SONGWRITING AND COMPOSITION
David wrote the KS3 Songwriting materials for the teachers' resource pack available on the Musical Futures website.  He runs occasional Master Classes in composition at 6th Form level.
MUSICAL CREATIVITY IN FURTHER AND HIGHER EDUCATION
David delivers undergraduate and post-graduate master classes in composing and songwriting at Universities and Colleges of Further Education. He offers introductory lectures on the historical and philosophical background to Western music and song, and illustrated talks on how harmony works and how to use it.
VOCAL AND INSTRUMENTAL MUSIC FOR SCHOOLS
David also writes music specially for school choirs, orchestras or other ensembles.