CORPORATE TRAINING in CREATIVE THINKING
"David Stoll is one of those rare musicians who can not only create wonderful music but can also hold an audience spell-bound as he takes you into the mind of a composer. Get him to run a workshop for you and you will open the doors to people's creativity, helping them to see the world with new eyes and hear its sounds with fresh ears."
Dr Bill Lucas – Chairman, The Talent Foundation: July 2007
"It has been a very long time since I have listened to someone who could speak so knowledgeably and passionately about a subject which I know absolutely nothing about but who could command my attention so completely."
Adult participant in a Royal Shakespeare Company workshop 'Music & Theatre', March 2003
"Cass Business School was one of the first to create an MBA course which examines the world of business through the lens of different fine arts. For several years we have been looking for a music-oriented facilitator who can deal with business people in their early thirties, some sceptical of what art has to offer business. After discussions with David I felt he had exactly the right approach, and he designed a half day session based on the theme of 'composition'.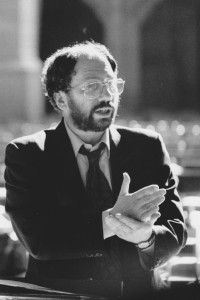 "The workshop was totally interactive, and the MBA's and accompanying professors, very few with any musical background, surprised themselves they could compose and hear their work performed. But much more importantly, David was able to provide an environment that helped us ourselves connect what appeared to be artistic challenges with a whole series of important management problems. This was much more engaging than any lecture on the same theme could be."
Clive Holtham – Professor of Information Management and Director of the Learning Laboratory, Cass Business School, City University London, June 2009.
". a most thought provoking, imaginative and highly creative workshop led by a deep-thinking professional, who was able to relate expertly to an audience of experienced leaders. The learning outcomes were of real quality, grounded in a day of fun and meaningful dialogue, that will undoubtedly benefit all the participants in the years ahead."
Tom Whittingham – Leadership Management and Governance Strategy Manager, Learning and School Effectiveness Service, South Gloucestershire Council: May 2007
THINKING LIKE A COMPOSER
David's practical workshop – THINKING LIKE A COMPOSER – is a useful component for a team-building, training or blue-sky thinking day.  It is based on listening and creative skills. A 60 minute blitz version is available, though 90 minutes or two hours are preferable, and some companies have allocated a whole day, or even two, to the topic.  Seminars are available on related subjects and can be tailor-made for company's needs.